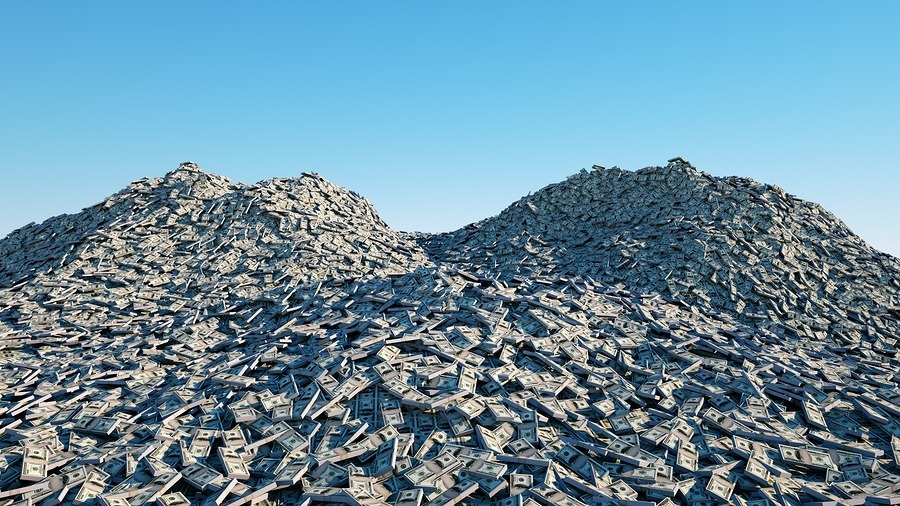 Buying life insurance is one of the easiest things you can buy for yourself that will do a couple of different things. It can provide a replaceable income for your spouse, it can cover your debt so when you pass away your family doesn't get stuck with your debt, it can cover your funeral expenses, and it can even help you secure a loan. If you are here you are probably wondering how much coverage you should buy and know this, it is totally fine to not know this, that's what we are here for! You may have wondered if you should buy a $5 million dollar life insurance policy or not and you are in for a special treat today. In this article, we will be discussing whether or not $5 million dollars in coverage is enough, the life insurance process, and how hard is it to get. The following are some key points from this article:
Applying for $5 million dollar life insurance is actually very simple.
The process of applying and approval is identical to any other amount of coverage.
You have two choices of life insurance such as term life or permanent life. 
If you're buying term buy level term for 30 years and if you're buying permanent coverage go with Guaranteed Universal Life.
Always pay annually when getting term since you'll get some savings.
When buying a permanent plan you can get away with a steal by paying a one-time premium to get your policy paid up. 
5 Million Dollar Life Insurance Quotes
A lot of different factors that go into determining your life insurance rate but the good news is life insurance rates are actually the same no matter where you go. The reason for this is their fixed by the law so you have no advantage by going to one agency or another or even going directly to the company. And since your life insurance rates are actually determined by you, the life insurance company will use factors like your overall health, lifestyle, family history, Hobbies, and occupation to determine your actual rates.
Besides the class that you get with the company the other part of your rate depends on the type of plan that you go with. They are two types of plans really term life insurance which is the most popular option and permanent life insurance which is the most benefit rich. It's actually very simple, you should go with a Term Policy if your needs are temporary. For instance, if you have three kids and they're all under the age of 10 and you're just worried that if something happens to you while they're still growing you want to be able to provide for them. Or you have a mortgage and you want to be covered while the mortgage is paid off, either way, term life insurance policies works best for those situations. However, if you are adamant about leaving money to your family regardless of when you pass or would like to help them with some estate taxes then obviously a permanent life insurance plan will be ideal.
So we now know a little bit about how your life change rate is determined will cover the difference between term and permanent more in the next paragraph but here are some sample rates that you can expect for 5 million-dollar life insurance policy. To get a fair understanding we're going to go with age 40 to get a good feel of rates.
Male- Age 40 Term Life Insurance for 30 year $5,000,000

Male- Age 40 Permanent Life Insurance until age 121 $5,000,000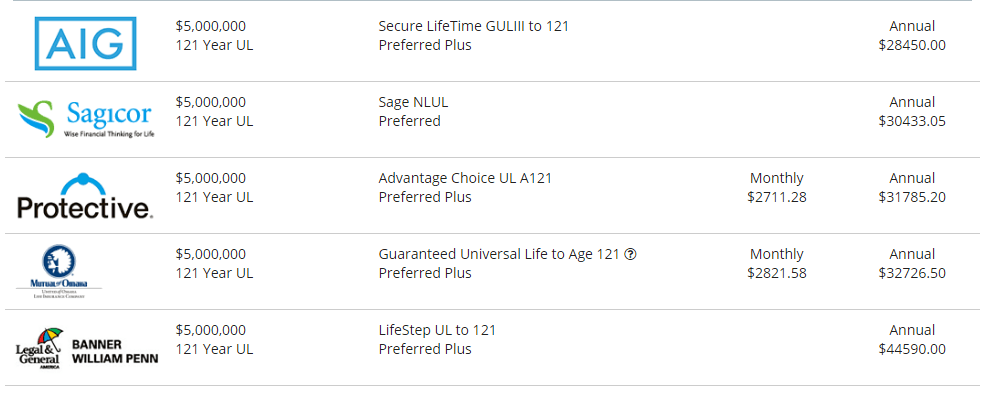 Female- Age 40 Term Life Insurance for 30 year $5,000,000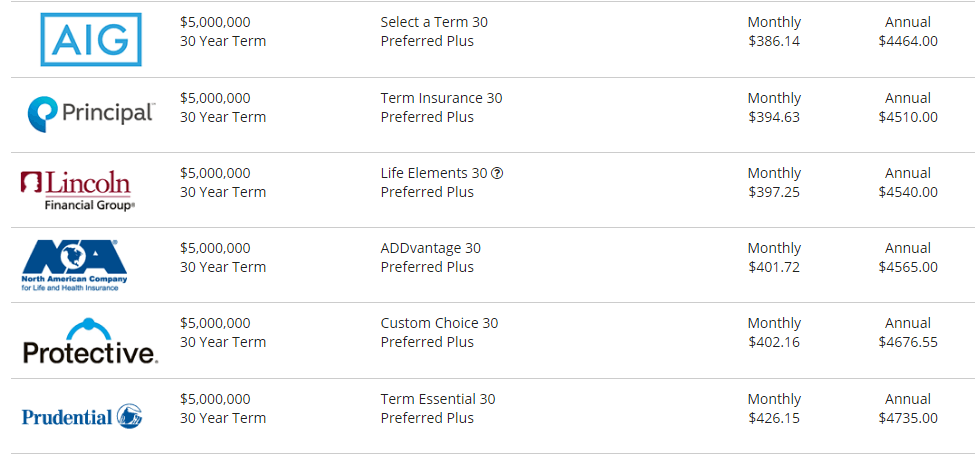 Female- Age 40 Permanent Life Insurance until age 121 $5,000,000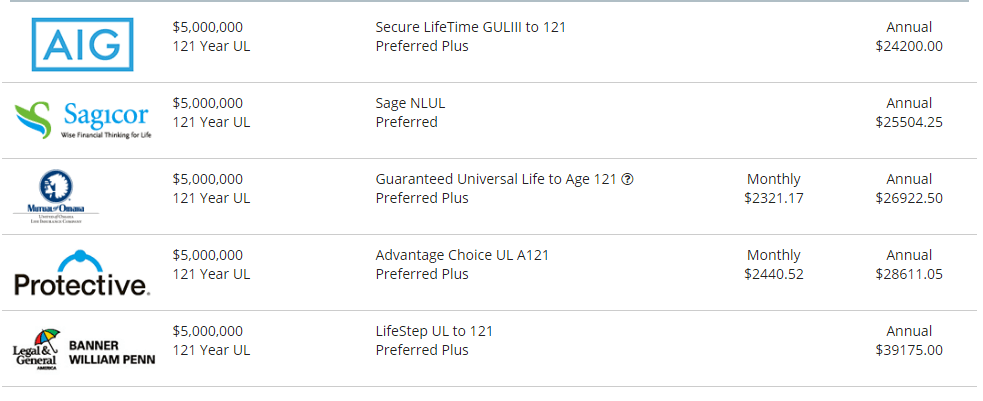 *These rates are based on Preferred Rate Class which is for the ideal health applicants. Your rate may vary based on your overall risk profile. 
The Basics Term life or Permanent life
Congratulations! You have taken the right step to protect your family's financials and you are now being welcomed into the world of life insurance. Now you need to figure out which type of life insurance you should buy! We can simply not get to the part about coverage if you don't know what type of life insurance you want to buy. There are two major life insurance types and they are term life and permanent life. Term life is a form of temporary life insurance that only provides coverage for a short and specified period of time. Term life insurance is best for those who want to fill a short term need gap or need this for a loan. It is also the cheapest type of life insurance and can be the most affordable for those who don't have a big budget for life insurance, which is probably not your case because you are looking into a $5 million dollar coverage. "Term" refers to the length you would like to be covered for. Most carriers offer term lengths of 5, 10, 15, 20, 25, or 30-years. Be aware that your death benefit will only be paid out if you pass away during that time you choose to stay covered for. Once your term life policy expires your policy will automatically renew, this can be expensive because every year your premiums will rise tremendously. You can choose to convert your term life policy into a permanent life insurance policy without having to go through the whole underwriting process again and you can still have the same rates regardless of your age or health. You can also choose to terminate your policy but if you choose later on in your life to get coverage again your rates will be different because of your age when you decide to get coverage again and you will have to go through the whole underwriting process all over again.
Permanent life insurance consists of a couple different kinds of life insurance. The most popular form of permanent life insurance is Whole life and this kind of life insurance provides coverage for you guessed it, your WHOLE life. Universal life is another form of permanent life insurance and again provides you with coverage for your whole life but offers flexibility that a traditional whole life insurance policy doesn't. There are two other types of Universal life insurance such as Variable Universal life and Index Universal life. Both of these offer an opportunity to take some of your cash value (this is built in all permanent life insurance policies) and invest it for possible returns while still providing the same flexibility that a traditional universal life policy offers. Variable Universal life differs from Index Universal because Variable Universal has no cap floor and you have to manage your own investments leaving more room for risk.
The whole life insurance process
Once you have figured out what type of life insurance you want to buy you should know what's coming next. The process of life insurance is fairly easy, especially if you work with us!
Step one is to compare life insurance quotes online and make sure you settle on a company, premium, and of course coverage amount that suits you and your family's personal needs.
Step two is to request an application for the coverage online and complete the application over the phone with one of our agents.
Step three is the medical exam. A traditional policy unless said otherwise will require you to undergo a medical exam. A nurse will be scheduled to come out a time and place of your choosing to do a quick and painless check up that will take about 15 minutes of your time.
Once the application and medical exam are complete there is an underwriting process that usually takes between 6-8 weeks. During this time the life insurance company's underwriters will review your application, look at your lab results, and make sure your medical records match up with what was filled out in your application. Once that is complete you will be officially approved for your $5 million dollar life insurance coverage. as soon as you receive and sign the policy, your payments will begin.
If you decide you cannot wait 6-8 weeks to get the coverage you should consider a no medical exam life insurance policy. These policies are slightly more expensive but will make your wait time between 12-48 hours! Keep in mind that most no exam life insurance companies cap their coverage at $250,000 to $400,000 at most, but don't worry you can stack up your policies to make it the coverage amount you want.
Is $5 Million enough coverage?
Whether $5 million is enough coverage or not is something we won't know until you tell us what your debts and personal needs are. We can walk you through this process so that we can figure it out together just by giving us a call today. When determining if $5 million is enough coverage you need to think of all your debt and this includes your mortgage, if you have a stay at home spouse you need to add them into the equation. Don't guess how much life insurance coverage you need because what if your family needs more? Give it some careful thinking because if you pass away and your family gets $5 million what can they do with it? Will $5 million be enough to cover your children's college and your spouse's finances left alone? Life insurance is not a one size fits all kind of thing and as much as we want to tell you if $5 million is enough coverage for you or not we can't. You may need more coverage or you may not need all that coverage but again that's something you have to determine or give us a call and can walk you through it all. If you are still debating how much coverage to buy after reading this article, don't hesitate, we get these calls all the time you are not alone and we are here to help!
Best Life Insurers for 5 Million Dollar Face Amount
From our experience, the best life insurance companies for $5,000,000 life plan are going to be Prudential life, Banner Life, North American, Principal Life Insurance Company and Protective Life. The reason for this is quite simple these companies have the highest ratings out of all the top insurance carriers we represent, they happened to be household names, they all been around for 100 plus years, and they have the most competitive life insurance rates.
They also offer term life insurance plans they have a lot of potential add ons and conversion privilege, which means that you can always turn your Term Policy into a permanent plan without any new underwriting, so basically on a guaranteed-issue basis. If you were to pick any one of these large insurers you would get all the benefits that someone is looking for when shopping for a policy.
Choose InsureChance!
When it comes to getting a policy the size of 5 million dollars or more you need to work with an agency that has previous experience with these type of cases. Over the years we have helped thousands of clients secure policies with the most competitive rates based on their circumstances. If you're not in perfect health or you have some dangerous Hobbies that you like to participate in, we will find you a company that will look at you more favorably and not just throw your application against the wall to see if it sticks. We also provide VIP service to our clients with larger face amounts! This simply means that we'll make sure your application is in pristine shape, will draft an epic cover letter and work with our underwriters to get you the best rate possible. Here at InsureChance, will make the life insurance shopping experience a breeze. If you'd like to get started feel free to compare quotes for term life or permanent life insurance right here on our website. Once you're ready, the best thing to do is to call us at 888-492-1967. Welcome to the best online life insurance marketplace!