You're not the only one who gets anxiety when people in lab coats pull out needles! As you already know most life insurance companies require a medical exam which is done by a nurse coming out to your home. This will result in getting a blood sample, urine sample and also checking your height weight along with blood pressure. Now if you are the type who cringes at a thought of seeing a medical practitioner (guilty as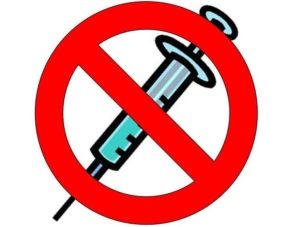 charged, hope our doctor doesn't read this article). Then life insurance with no medical exam might be right for you. The key lies in finding the right company to secure a policy with. These plans are pain-free(literally) and typically have a quicker turnaround time, so let's discuss some setbacks and benefits before we get into the no medical exam life insurance companies.
Setbacks
No medical exam companies tend to be stricter when it comes to medical conditions, background history and your age. In addition to that, they limit the amount of coverage you can get between $25,000 and $400,000 depending on the company. If you want your family to join the "Trumps" in case of your death this might not be the coverage for you. However, we have in the past applied with two or more companies to get a larger face amount for our clients. Last but not least, premiums tend to be more expensive for non-med plans. Don't let that discourage you, there are many benefits to no medical exam life insurance, let's get into those now.
Benefits
First benefit is, of course, no needles, because there is absolutely no medical exam. It also provides the convenience of fast approval times. In some cases, we can get a decision in ten minutes after applying but on average can take a few days. Most companies offer completely paperless application online with electronic signature (saves lots of trees). Let's not forget that this type of life insurance is perfect if you have missed your physical this year and not sure how your basic levels will show on the lab result.
So as you can see so far, non-medical exam term life insurance is perfect for those who want coverage fast with no hassles and not to mention, no needles.
Now that we covered some basics let see which companies will be more suitable for your unique situation. Please check out the table below to get an idea which company will best meet your needs.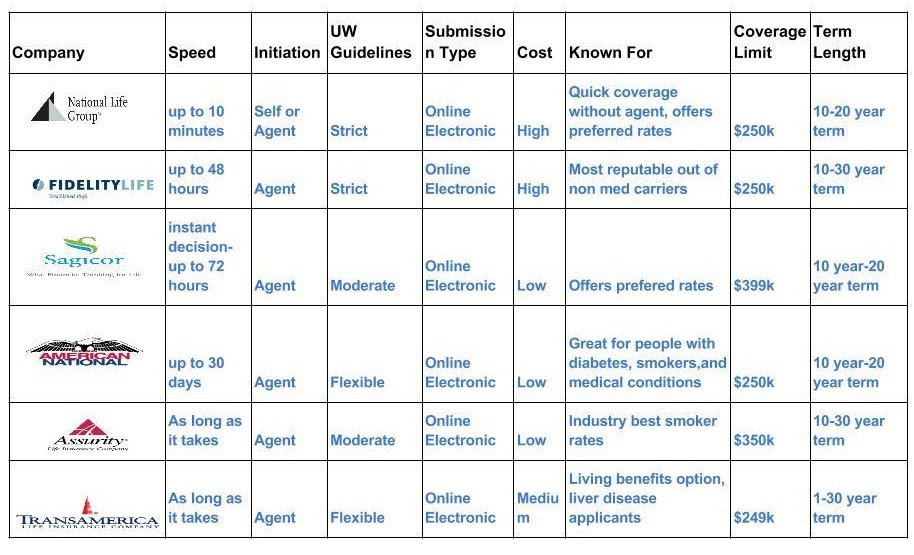 We're here to help
If non-med term life sounds like the best option for you then give us a call. We can give you a quote and recommend a company that will meet your goals. If it fits your monthly budget we can then help you submit an application. Most of the time we can get an application submitted in 10 minutes. If you would like to do the application on your own time we can email a link with few selected companies.
Now if you are not sure which company is right for you or you have a medical condition which you feel can hold you back from getting approved, call us so we can guide you to apply with the company that will satisfy your needs.
Final point to hit home is that we love no medical exam life insurance because it gives our busy clients a convenient option to protect their loved ones with a few mouse clicks. It is truly a wonderful product since it's very easy to apply for, it offers a quick turnaround time and it has all the benefits a fully underwritten plan. More and more companies and clients are jumping on board with no exam life insurance coverage.
Feel free to call us 888-492-1967 or Compare No Medical Exam Life Insurance Quotes Online.