Return of premium term life insurance is simply a term life insurance policy rider that gives you all the premiums you paid out back if you outlive the term. This can be a great benefit if you hate the idea of paying for coverage for 5 to 30 years and not see anything in return if you outlive the term. We call this coverage rop term and a lot of people ask about it but not many go with it due to the coverage costing almost double of a regular term life insurance policy for the same amount of protection. If you Google return of premium life insurance you will notice a lot of strong one sided opinions, some people are on the side of investing that difference while others think its a no brainer to get free life insurance so to speak. Of course we believe that this option has its cons and pros which we will discuss later, at the end it all comes down to each individual's situation and need.
If you are a business owner and want to buy a life insurance policy on key employee which will provide a death benefit until that employees retirement then return of premium term might be a great option since you will just get all your money back if loss of life didn't occur and your valuable employee retires. Now if you are an active investor then paying double for a term policy won't make sense to you since you most likely can use the difference to get returns which will be greater than the money you will receive at the end of the term. Even though it seems like you are not losing anything there is the opportunity cost of using that difference.
Now considering you are a hardworking American and have the ability to pay the premium then the return of premium life insurance is worthy option since you are getting a life insurance protection at technically no cost other than as we mentioned before, investing and getting greater returns.
Now lets look at some Pros and Cons of Return of Premium Life Insurance: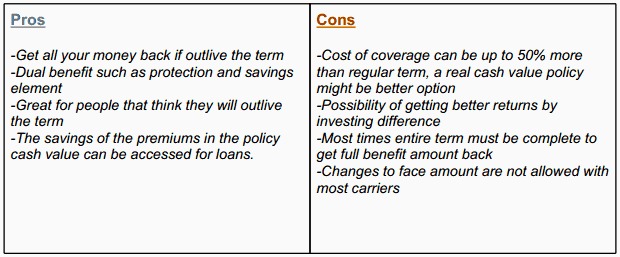 Hopefully this chart will help you understand better whether this is the right plan for you. Some precautions to take are obviously not to get an ROP term with premiums high enough to create a burden of paying them in the future. Because you would not get back the full amount you paid into the policy if it lapses prior to the term completion. Also picture yourself at the end of your 10 or 30 year term policy and ask yourself what you can do with this money. Whether you can use it to help pay your child's college or use it to pay some premiums of a permanent life insurance. If you are more concerned in providing death benefit and see insurance as a risk transfer then you should just buy a term policy without return of premium add on.
The final scoop is that life insurance companies do use the extra premiums they charge to invest which leads to great returns for them, so they can in exchange give you back your premiums and not go bankrupt with higher risk. In addition from our client base data we have sold a minuscule amount of return of premium term life which we believe is due to the fact that regular term life insurance provides protection against death with a low monthly payment most people can easily afford. Return of premium life insurance has its place but to look at regular term life insurance as throwing money away is silly since peace of mind and security of your family is priceless. At the end of the day the best kind of insurance policy is the one that is in force.
If you have any questions feel free to call us at 888-492-1967 or Get your return of premium life insurance quotes online.