When it comes to protection against loss of life, life insurance is like the Swiss knife since it is useful for many different situations pertaining to people or entities that would be at disadvantage if you were no longer around. Whether you concern is paying for your children's college education, providing income replacement for your family, paying any final medical expenses or funeral cost, covering key employees, paying off a mortgage, creating wealth for the next generation or any other financial obligation. Life insurance is best way to transfer the responsibility and get some peace of mind.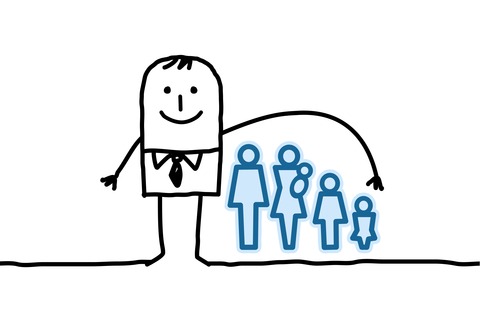 There are many types of life insurance options available today however term life insurance is the best choice when it boils down to cost and simplicity. It is and easy to understand type of life insurance, since it provides pure protection for a specified period of length.
Term life plans usually range from 1 year all the way to 30 years. Most people buy a term policy for a period of 10, 15,20, 25 or 30 years since it is a better use of their premium dollar. Few companies will even allow you to pick your own term like lets say 18 years or 11 years.If anything was to happen during this set period of time, the life insurance company would write a check to your beneficiaries tax free, since most life insurance proceeds do not get taxed. During the specific term whichever it is you decide on, your payments for the policy will not increase or decrease rather will stay fixed, as long as you secure a level premium term policy. No need to worry since most reputable companies offer this as a standard but it is always good to confirm.
You might now have a better idea of how long you need the policy for but don't forget to give ample thought to how much life insurance you should have. We have more information on specific approaches with steps for calculating precise amounts, click here for more info. In general you should calculate three types of expenses in order to figure out amount of coverage to have in force. These expenses are immediate, ongoing and future expenses. Immediate expenses would be all costs associated within 30 days of a person passing such as funeral charges and hospital bills if any. Ongoing expenses would be living expenses that are monthly which we will assume your income takes care of, so here we want to make sure your family has either a 10-15 year income replacement window or lifetime benefit which can be achieved with interest only pay out on the death benefit. Future costs would be college education for your children, elderly care for your parents if they are dependent on you for financial support and anything else that you feel needs to be taken care of down the road.
Even though it seems that term life insurance is only being used upon death there are some features that come either built in or added for an additional premium mostly known as riders. Rider in plain English is just an additional option. So as you can see term life insurance can be customized beyond the amount and length. Let's cover some of these optional benefits both free and not:
Built In Options
a. Renewability– this is a clause in the term life policy which is stating that at the end of your term the company will let you renew the coverage on guaranteed basis without an exam or proof of insurability. Please do take caution as some companies will have an age restriction that will not let you convert if are past a certain age typically age 70 and up.
b. Option to Convert-this is similar to the renewability with the sense that it will give you the ability to convert your term policy on guaranteed basis to one of the companies permanent life insurance options should your situation change and your health is no longer similar to what it was when your first applied.
*This options are important because should a person have an uninsurable condition and have a higher chance of dying they will still be able to secure protection even though they would be declined by all other carriers.
c. Accelerated Death Benefit-this benefit surprises most of our clients since it will offer up to 60% of the coverage amount if you were diagnosed with a terminal illness and had less than 12-24 months to live depending on your life insurance carrier. This is a living benefit which enables the policyholder to use the funds to pay for medical treatment, to create ideal situation for dependents while still living or simply checking off the bucket list. The remainder of the life insurance policy will be paid out to the beneficiaries in the event of death. Now in the case of the person beating the illness no funds have to be paid back but will be deducted from coverage amount as previously stated.
Paid Riders
a. Return of Premium-more like a different type of a term life insurance policy it still does come in a form of a rider. It is basically a term policy that will return back every single penny you paid into it if you are still living when the coverage expires. This can be a true no brainer but of course there is a catch which you will see in the price variation. Typically a return of premium term life insurance can cost more than double in comparison to a simple pure term life insurance and almost all companies require for entire term to be complete for full payout.
b. Accidental Death Benefit-this is a great option which will in many cases pay out a double face amount to your beneficiaries in the event of the death caused by an accident. For example let say you bought a policy for $250,000 for 20 years and also added the accidental death rider. If an accident occurred resulting in the loss of life the company would pay out $500,000 to your beneficiaries.
c. Child Rider– this is an option to get your children a life insurance policy in the amount of $1000 to $50,000 based on the company you go with. The cool part about this rider is that it is usually sold in units which means that it will provide protection to one child or twelve children for same fixed premium. It also helps introduce your young ones to life insurance and they can make this their own individual policy when they are ready, of course as long as this is done prior to your term expiring.
d. Waiver of Premium– this rider is designed to ensure your life insurance keeps getting paid in the event of your disability.
e. Disability Income Rider-not to be confused with the above rider this option gives you the ability to have a short term disability insurance policy built into your term life insurance product. This will provide a replacement income in the case of you being disabled and not being able to perform your job. Having this option gives some people and additional peace of mind knowing not only they protect their income in case of death but also disability.
If you are getting confused it's okay just remember that term life policy equals a check to your beneficiaries if you die within specified term period. Almost forgot to mention its dirt cheap. All the other options are just useful tools that can be used to tailor a plan to meet your specific need.
You know the length of coverage, amount of coverage and you have customized the plan with certain riders. Now it is time to compare some sample quotes and pick the winner. To secure a plan you will have to qualify first which most of the time will require a medical exam unless you pick the more expensive but faster option of no medical exam term life insurance(click here to read more about this option). So if you are going with the traditional route here is a quick list of steps.
Steps for securing a term life policy.
1. Use our quote engine for life insurance quotes or call us at 888.492.1967
2. Fill out an application and set up a medical exam at your convenience.
3. Allow 3-6 weeks for the company to come back with a decision.
Final step after receiving your policy in the mail is to take a deep breath and feel the invisible weight lifting of your shoulders. We hope this article will help you make a better educated decision when you are ready to pick a plan. Feel free to share this article with family or friend that can find it useful. Sharing also aids in promoting our page and helps us fulfill our mission of making life insurance simple.