Everyone wants to get a savings on their life insurance and sometimes people even ask us if we can do better. The answer is we wish it was free so everybody can have it, but life insurance premiums are fixed by the law. So whether you go to direct to the company or use an agent, you are getting an exact same rate. For those who are really interested in saving money on life insurance there are some small adjustments that can turn into a large savings for you and your family over the years.
First let's cover how rates are determined briefly. Life insurance companies base your rates on your age, payment frequency and your health class. This leads us to 3 areas we can use to get some extra cash in our pocket.
Tip #1: Save Age to Save Dollars
Life Insurance carriers use your actual age or age nearest to determine your rate. Most companies determine your age by the age your nearest to. For example  if you are 53 and 1/2 or higher,  you will get hit at the age of 54, which will lead to a higher rate. So to save money on life insurance we can pay prior premiums to "save age" till we get under the halfway point. See example below:
Fred is looking for a $250,000 20 year term life insurance to cover his mortgage in a case of death, so his wife can have a paid off home. He is a healthy non smoker male with a DOB of 03/01/1960 which makes him 53 but since we are looking at quotes in 09/01/2013, the companies will rate him to age nearest of 54.
Fred's Life Insurance Quotes
Age 54 rate is $72.21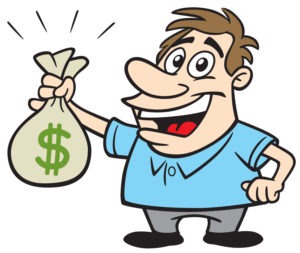 Age 53 rate is $65.90
This is a saving of $75.72 per year which we can
achieve by paying back premium prior to the 6 month point in this case it would be one payment of $65.90 in addition of your first premium.
(annual savings x 20 years -back payment=savings)
So over 20 years Fred will save $1448.50.

Tip#2: Pay Annually        
When getting your life insurance policy the company will give you an option to pay monthly, quarterly, semi-annually and annually. You get discounts on your premium starting with quarterly to annual payment frequency. Annual payments are the best option since that is where our clients get the most  savings. Lets use our example Fred below:
Fred's rates based on payment frequency with a $250,000 20 year term:
Monthly-$65.90
Annually-$757.50
Lets take a closer look if we pay monthly after a year $65.90×12=$790.80 total vs $754.50 if we paid up front.
Annual Savings of $36.30 and Total Savings of $726 over 20 year term.
Tip#3: Ace the Medical Exam
To get the best rates most companies require a medical exam which includes the nurse coming out to your home to check all your vitals. In the exam she will check your height/weight, draw blood, take a urine sample and check blood pressure. These are all the factors that can make a healthy person get rates that of an ill one. Companies will look at your build and all the other factors such as, but not limited to cholesterol, blood pressure, sugar levels and more. So here are some tips Fred can take to make sure he gets favorable lab results:
Eat clean couple days prior to your exam such as lean proteins, vegetables and lot's of water. We are not dietitians here so we assume you know the difference between donuts and broccoli(we love donuts…)
Stay away from alcohol, strenuous exercise, and high cholesterol foods.
Schedule your exam in the morning because the 7-9 hour fast while you are asleep will help you get optimal levels. Avoid caffeine and tobacco on the day of your exam. Also drink lots of water prior to your the exam an hour before will do as this dilates your blood vessels and ensures favorable results.
If Fred followed all of the above steps he ensure getting a preferred rate opposed to a standard plus rate which he could have got for any elevated levels. Let see the difference this can make:
20 year term $250,000 life insurance rates based on health class.
Standard Rate Class Annual Premium-$1002.50
Preferred Rate Class Annual Premium-$757.50
Annual Savings of $245 and total savings over 20 years are $4900. I betcha Fred is glad he said no to that donut.
Even though rates are fixed by law let's tally up our total savings from our cash saving arsenal of tips.
Fred got a  total of 1448.5 by saving age
Also additional $726 by paying annually
Plus a whopping $4900 by getting a preferred rating based on his medical exam results.
This is a grand total of $7074.50 that Fred can now use for his family's other needs.
At InsureChance we go the extra mile to make sure you are getting the most value for your premium dollar, so call us at 888-492-1967 if you would like to some save money on life insurance or Compare Quotes Online. For more ways to get the lowest rate read this article!